The Veteran Cruiser and the Newbie
---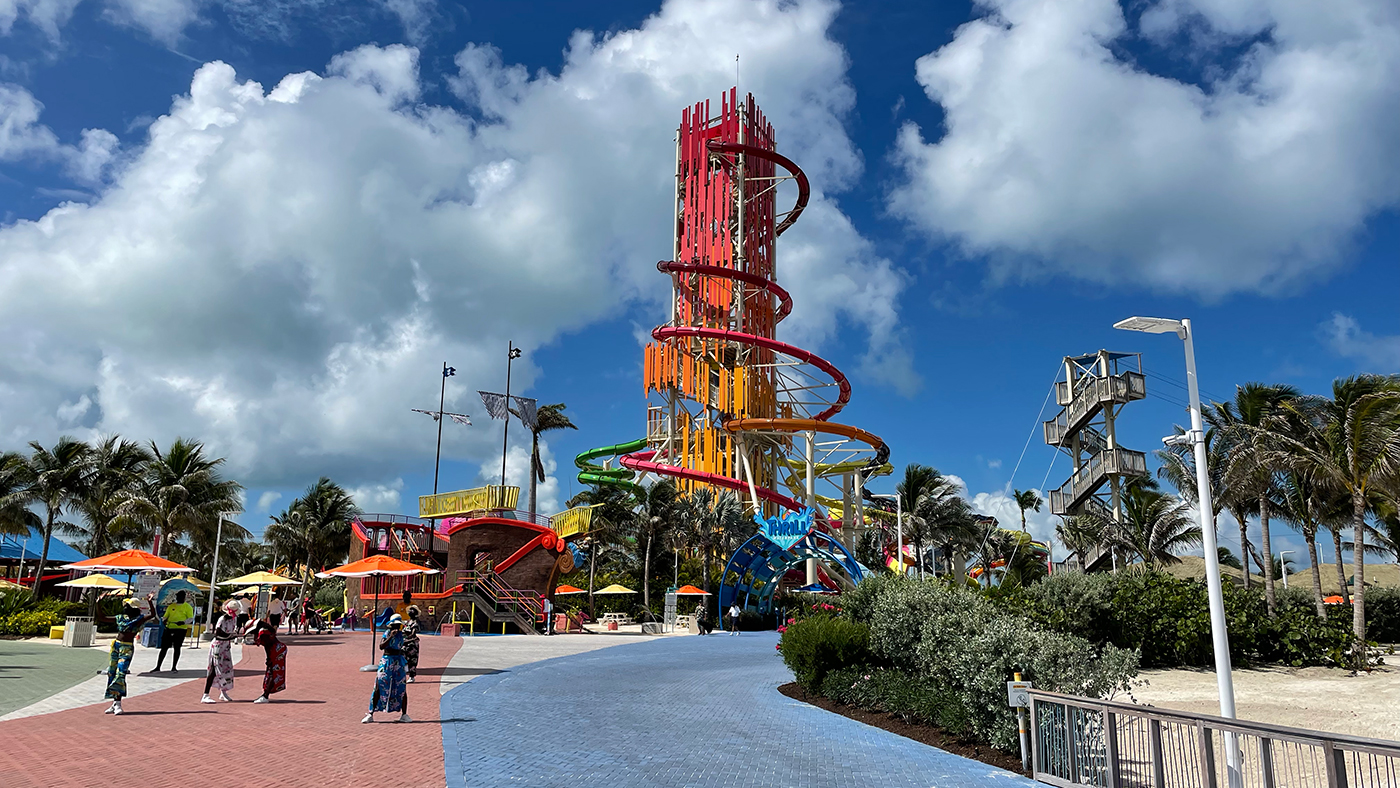 They say that experience is the best teacher. The experience of two AAA Members and Auto Club Group employees on a three-day Royal Caribbean cruise in a ever-changing world provides all members with lessons on how travel on cruise ships has grown and changed over the past year.
One AAA Member is a tried and true veteran cruiser and the other is a newcomer to the world of cruise ships and ocean voyages.
Our veteran cruiser is Jasmin Lankford who works for the Auto Club Group's social media team. Jasmin has set sail with her family so many times, the trips are too numerous for her to count. Our newbie cruiser is Andrea Fiedler, also a social media team member from the Auto Club Group. Andrea has shied away from cruise vacations in the past due to the anxiety of being on a ship in the ocean far from land.
Collectively they were both concerned about what a cruise would be like as sailings resumed after more than a year due to COVID-19. For this article, Jasmin and Andrea gave us their unvarnished point of view of their feelings before, during and after their cruise from Miami to the Bahamas.
How did each of you feel about taking a cruise?
Andrea: I never wanted to go on a cruise and had no desire to take one, but after the past year, I made a resolution to tackle new adventures and get out and do more. I realized that I had no point of reference, so when I said yes to the trip; my anxiety co-existed with my excitement to go. For me, traveling to the Bahamas was a dream come true.
Jasmin: Even though I had been on many cruises, I was also both excited and anxious. This was my first cruise without my family and my first since the pandemic stopped travel. It was a good way to get out and see how things had changed since last time I was on cruise. I looked forward to seeing how the ship experience might have changed because of COVID.
Before leaving for the Port of Miami, what were your concerns?
Jasmin: First off, I was unsure about parking at the port. In the past, I went with my family and did not pay attention to parking and locations. When we got to Miami, I found that it was so easy because Royal Caribbean provided detailed information on their website. Between the online information and excellent signage, it was easy to find parking and the cruise departure area.
Andrea: Since I had never been on a cruise, I assumed it was going to be very similar to flying. Long security lines, minimal number of bags, and not being able to take certain items onto the ship. However, the cruise line's website assured me of what I could bring and what to expect when we arrived.
Prior to leaving home, passengers are asked to select an arrival time in order to go through security due to COVID protocols. This made the check-in easy and quick. Although we arrived much earlier than our set time, we were through security and checked in within 15 to 20 minutes.
Can you share more about your check-in experience?
Andrea: My passport had expired and due to a backlog of passports, I wasn't able to update it in time for the trip. However, Royal Caribbean accepted my birth certificate and driver's license in place of a passport. I also provided my vaccination card as proof of vaccination. Although non-vaccinated passengers were permitted to travel on the ship, they wore wristbands that differentiated each group. We later found out that there were separate sections for vaccinated and unvaccinated passengers.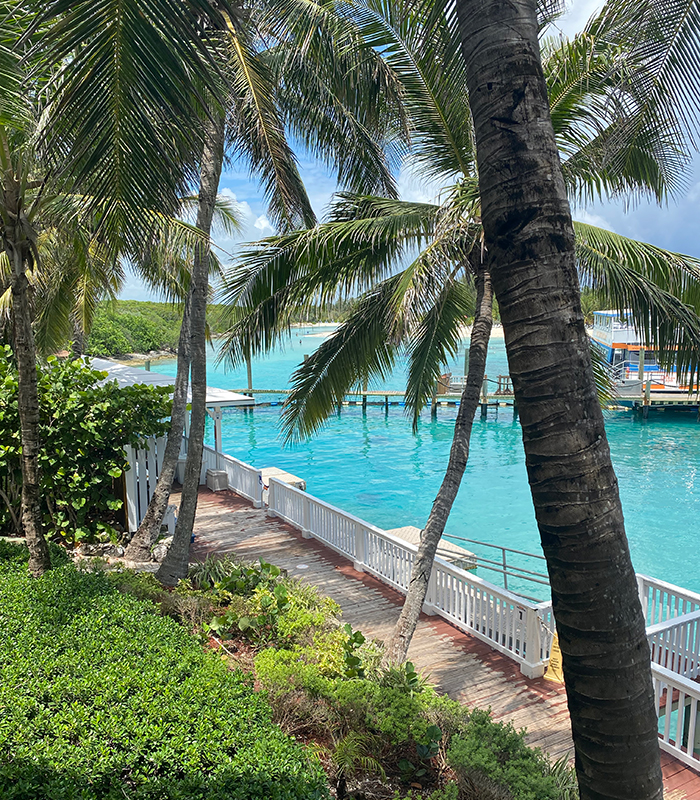 It was very easy to drop off one of my heavy bags. They were brought onboard the ship and was left outside the room so that I could grab it when we boarded. I invested in a luggage lock before the trip to assure everything would remain secure. I found that overall, boarding the ship was an easy process; I thought it was so much easier than going on a plane. Everyone was helpful and directions were great.
Jasmin: The boarding process was very organized. Summer in Miami can be hot, and people should be prepared to wait outside for about 15-20 minutes. There are bathrooms available before you get inside to the air-conditioned security and check-in area. However, we arrived early, so the wait may not have been as long if we had arrived closer to our selected check-in time.
One change that I liked was the new Muster Drills. These are the drills so that everyone on board knows what to do if the ship were to be in distress and lifeboats were required. Previously, they were organized with 50 or more people in a close group. However, the new protocol is to do the drills with only your immediate group of travelers and the ship staff rather than in large groups. It felt safer and I felt more informed than when I was in larger groups going through the drill.
What did you think the cruise would be like for travelers with the industry's new safety protocols?
Jasmin: I remember cruise ships always being clean, but this cruise I noticed that everything was very clean. There were hand sanitizing stations everywhere as well as hand washing stations going into the dining room. I saw the crew wiping down railings, the hot tub and doorknobs more than once a day.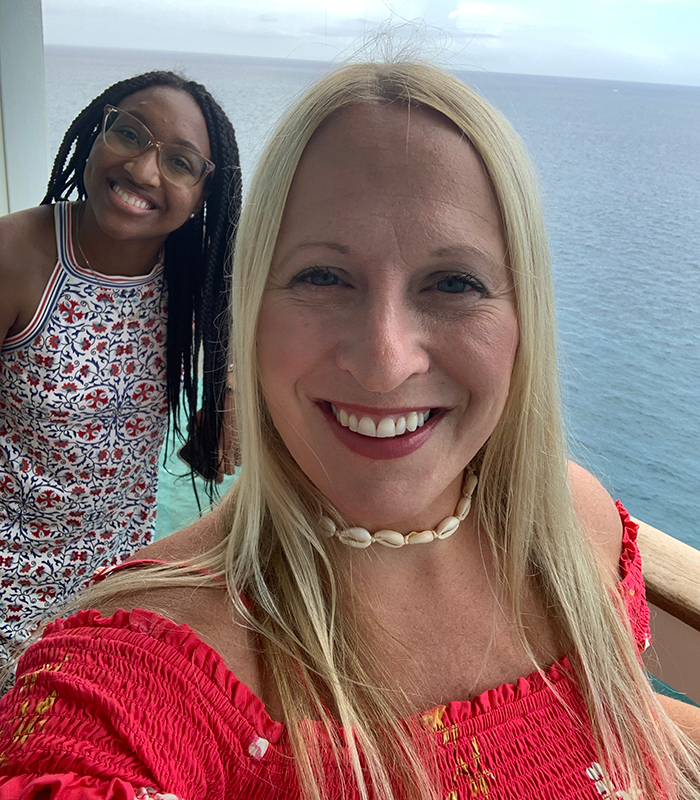 Andrea: I know one thing I was concerned about cruising in general was that I didn't want to feel trapped. I remember seeing people trapped at sea when the first waves of COVID hit various cruise ships. I also thought I'd be claustrophobic, but neither was the case. The room was the size of a regular hotel room and we had a balcony that made it open and light-filled. There were so many safety precautions, new medical stations, rapid COVID testing was available and with all the cleaning that was visible on the ship, I felt very safe and secure onboard. All of the crew wore masks, but had cool buttons with their faces on them so that you knew what they looked like. Seating was spread out to accommodate social distancing as well.
What were the activities like on the ship?
Jasmin: All of the regular entertainment and amenities were available. The only difference was that there were different areas for those who were vaccinated and those who were not. Different pools, bars, restaurants and so forth.
The ship still had the famous cruise buffets, the only difference was that servers gave you the food, rather than you touching the utensils and serving yourself.
The ship app made it easy to order drinks at poolside or to get room service. You could also use it to make reservations for restaurants and shore excursions. The app had a map of the ship and an event calendar so that you could figure out where activities were and make a choice of what you wanted to do next. Certain activities were open to vaccinated guests only – which I appreciated for safety reasons.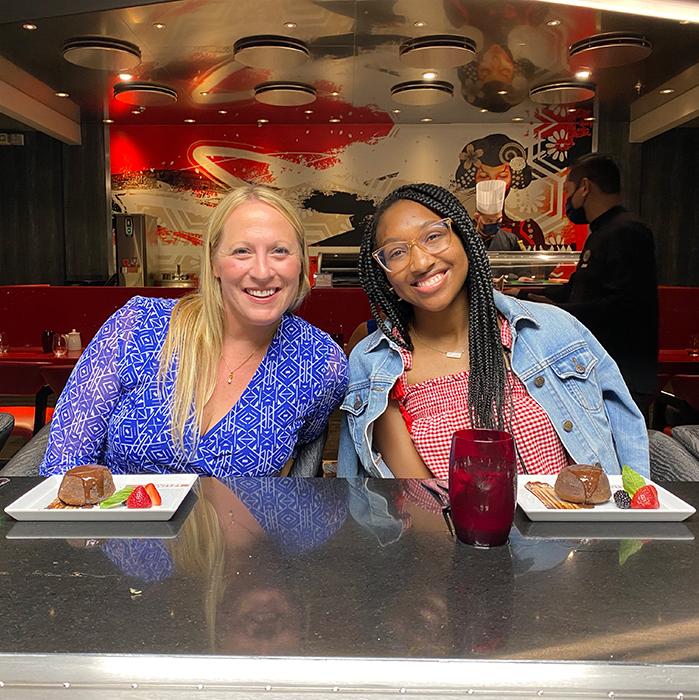 Andrea: Since I have three children, I was amazed at all the family activities onboard. There was a water slide, mini golf, day care, splash pad, movies for kids and a rock-climbing wall. So many activities. I was so excited to see them all and took note for a future family vacation.
Can you give a perspective of the actual trip itself?
Andrea: Our first stop after leaving Miami was for a "Perfect Day at CocoCay," which is a man-made island that is exclusive to Royal Caribbean. There were so many activities and the island was something out of a movie. You could rent jet skis and kayaks, go snorkeling or swim up to the floating bar. It has one of the highest water slides in the northern hemisphere. What a fun slide it was! There are hammocks everywhere and lunch was free for the entire day. I felt safe the entire day and had a truly magical experience.
Jasmin: We were on the island from about 10 a.m. to 5 p.m. when we went back to the ship. They had trams for those who needed to get to and from the ship or to make their way around the island. The cruise line placed hand sanitizer stations around the island in convenient locations, there was social distancing, and chairs and tables were several feet apart.
The next day we were in Nassau, where we hopped on a 30-minute boat ride and visited the Blue Lagoon. When boarding the boat, attendees had their temperatures taken, were given assigned seats within their groups and wore masks. When we arrived at the island, there was an aquatic park where you could interact with dolphins. You could hug them or watch them dance. It was so fun.
Now that you've been back, home for about a week what are your thoughts and impressions of this cruise?
Andrea: I'm a true-blue cruiser now. I told family we're going to go. It was so nice and it would be great to bring my husband and our kids. I would love to try a cruise to another Caribbean island or Alaska.
Jasmin: This cruise was a lot of fun. I was definitely anxious before we went, but I was happy to have experienced the cruise to see how the ships have adjusted—and what remains the same—as the world navigates a global pandemic.
---